WILD Animal Valentine's Day Card Sets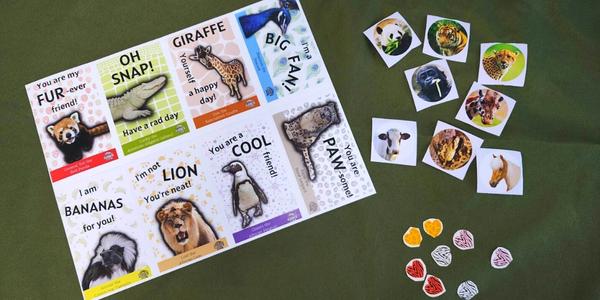 Interested in adding some ROAR factor to your Valentine's Day cards this year? Check out our one-of-a-kind WILD Valentine's Day Card Sets – they're especially perfect for classroom Valentine's Day exchanges! Fun sayings accompany pictures of your favorite NEW Zoo animals. Whether your valentine is an alligator enthusiast, a penguin pal, or just pawsitively wild for animals, these cards are sure to bring a smile! So share the love and make a difference by supporting the NEW Zoo this Valentine's Day!
Price: $15 dollars for a pack of 32 Cards – enough for the whole class!
Each Card Set Includes:
32 NEW Zoo Animal Valentine's Day Cards

8 unique animal designs that feature photos, names, and facts about your favorite NEW Zoo animals
Each sheet of 8 cards is perforated for your convenience
Customizable "To" and "From" section

32 Animal Stickers, to give away with each card (stickers may vary)
32 Mini Heart Stickers, to use for attaching the gift animal stickers to each card
Shipping is included
Please note:
Purchase by 2pm on February 7th to guarantee shipping on February 8th.
Limited quantities remain!
Every purchase supports the NEW Zoo's mission in connecting people with wildlife through our education and conservation programs. Thank you for your support!